RESPONSIBLY HARVESTED WOOD

The studio at Jeff Martin Joinery has spent years researching the best lumber suppliers across North America. Our wood selection is air dried for many years and finished in a kiln for seasoning so we can ensure that our furniture is built with a stable input material. Working with vendors to ensure our lumber is responsibly harvested is paramount to our operations. Many of these suppliers have worked in the past with George Nakashima, Sam Maloof, Roy McMakin, and some more modern masters.

Our responsibly harvested lumber is full of natural flaws, which are presented beautifully and with care. Wood is a natural material with naturally occuring deviations in grain. These are found in the form of knots, cracks, checks, and etc. Rather than using petro-chemical additivies, like epoxy, to hide these - we let them stand proud. If you are hoping for a fully flawless table please inquire about our patchwork we can inlay to help hide these. And if you need the table without any flaws in the wood we will happily use some eco-resin to fill small knots/cracks on the top and larger portions on the bottom of the table, need be.

We experiment continuously with wood finishes. Please inquire to purchase a sample package of:

Claro Walnut
American Black Walnut (Natural, Ebonized)
Oak (Natural, Bleached, Ebonized, Cerused, Charred)
Ash (Natural, Charred
Maple (Natural, Bleached, Charred, Handpainted, Oxidized, Spalted)
Cherry (Natural, Bleached, Oxidized)
Sycamore (Natural, Bleached Oxidized)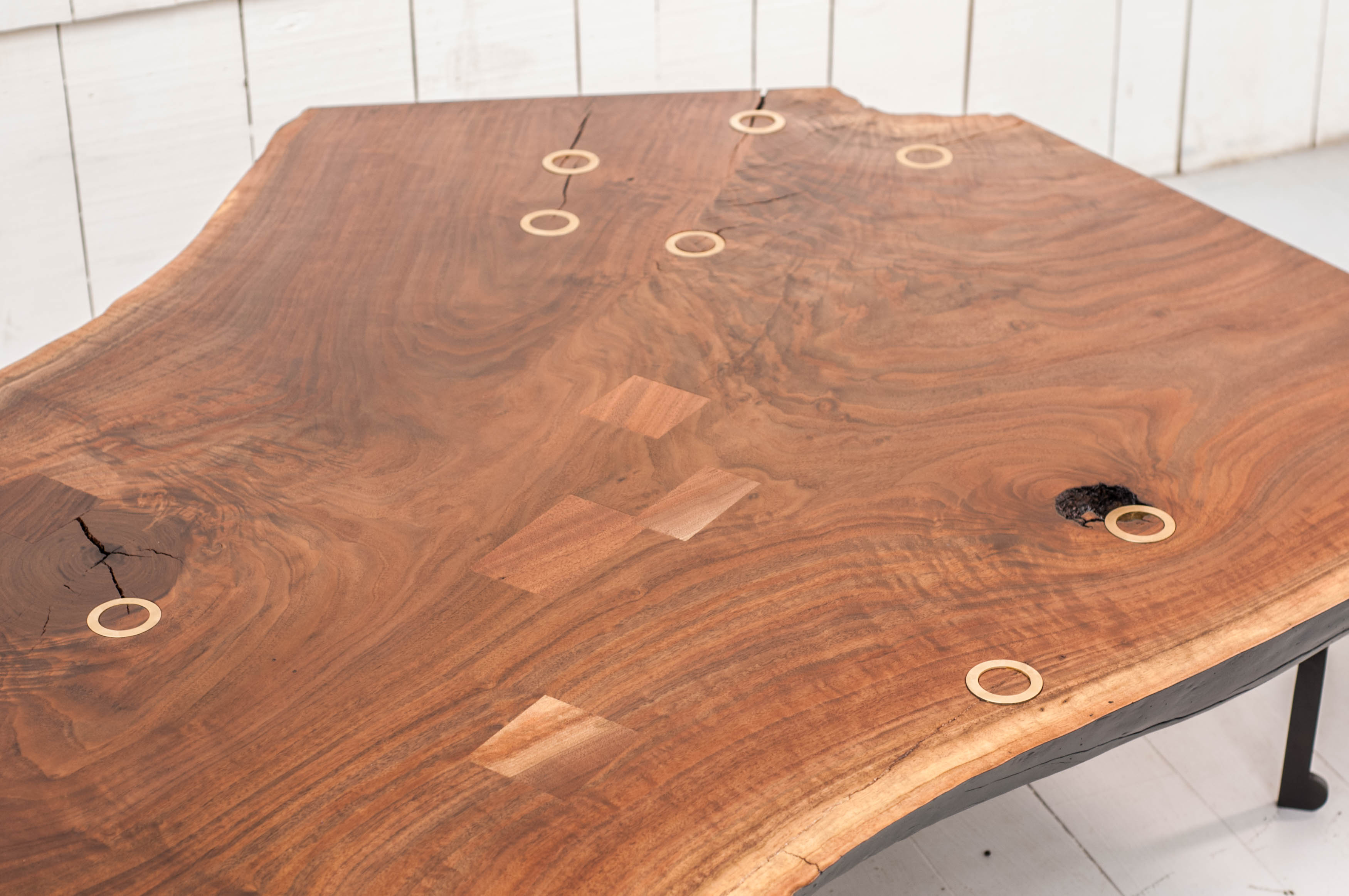 CAST SILICON BRONZE

Many of our tables and bases are made from cast silicon bronze. From product conceptualization, pattern making and mold making, through to casting and finishing we apply the same rigour to these pieces as we do with wood production. Cast Bronze is a superior input material for sculptural work when compared against brass, copper, or electroplated materials due to it's strength, colour, and patina/finishing options. All of our bronze is finished to 220 grit and then sealed. It is to be expected that natural parts of the process of casting and welding are left imbued in the work. These are non structural cracks, pitting, and chased seams.

Foundry Fresh (raw) Bronze
Blackened Bronze
Satin Bronze
Polished Bronze
Copper Salt Bronze (Green)
Burial Patina Bronze
Silver Nitrate




CAST PEWTER

In house produced cast pewter bases and pulls, finished with a variety of patinas are a staple from our design studio. Using a very high grade silver alloy pewter with no lead, we create roughly hewn work.




CORK FORMED GLASS

Cork serves as a foundation material for casting metals, cement, and blowing glass in our studio specific manner.




ALUMINUM/STEEL

Many of our casegoods are clad in blackened steel surrounds, and have blackened steel hardware and bases. Using a variety of waterjet cutting techniques and old world patinas we can achieve a variety of finishes which are topcoated with lacquer.




VENEERS

All of our veneers are cut in-house from instrument grade billets of solid wood. We cut our veneers at about 10 times the normal veneer thickness and then arrange them randomly. The result is a product that looks and ages like solid wood but performs like engineered core materials.




STONE

Our stone work is produced at a family run state of the art facility in Northern Italy. We have hundreds of type of stone available and can carve with exceptional 5 axis equipment.





CERAMICS

We take care to make a variety of objects in stoneware, terracotta, and porcalain ceramics. These objects are sculpted by hand, one at a time. We believe in allowing the tiles to be full of wonk! Letting the edges curl, thicknesses to vary, and undulations to be the intent and not the bug in the system. We generally leave the tiles ungrouted, which allows us to bond them to a solid wood substrate, which breathes and moves seasonally.




SUEDE, LEATHER, AND UPHOLSTERY

Our suede and leather is sourced from the finest European tanneries. It is generally treated minimally, meaning you should expect exceptional tracking, lustre, richness, and bold colours. But also natural scarring and variations in colour from the age old processes used. Please inquire for COM COL, and stock options.




Please inquire for SAMPLE FINISHES.